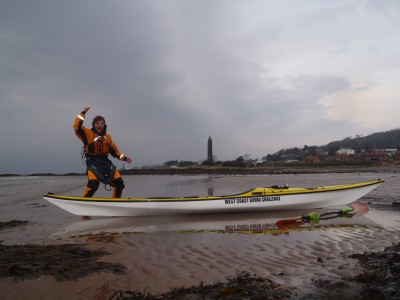 Bruce Jolliffe set out from Largs today to start the
West Coast Kayak Challenge
, a solo, self-supported and self-funded kayak journey round the Mull of Kintyre and up the west coast, culminating in a  crossing of the Minch to Stornoway. His fabulously aesthetic route will take him from Scotland's densely populated central belt to the outer reaches of the country's ragged fringe. He'll be travelling through Scotland's greatest scenery right when it is at its most scenic; the sun climbing higher in the sky each day, the first stirrings of spring low down, beneath the snow-capped hills.
The route is not only beautiful, it is also logical. Bruce is paddling to raise funds for cancer charities, from his own home in Largs to Stornoway, the hometown of a friend who recently died of the disease. Bruce's will be a thoroughly modern, electronic journey. I am looking forward to watching his adventure unfold. Follow his 
blog
 and see if it inspires you to donate a few quid.
There's a quote in Greg Crouch's 'Enduring Patagonia to the effect that as modern humans, every one of us is in possession of a body capable of extreme endurance, of pushing hard for days without food; yet we have become so soft that we expect praise if we walking half a mile instead of driving to the shops, or use the stairs instead of the lift. Nowhere is this cult of praising the insignificant more prominent than in the name of charity, where often we are asked to sponsor people to carry out mundane or trivial challenges like running 10 km or even walking a shorter distance.
To be worthy of sponsorship, an activity should be sufficiently gruelling that success is not a foregone conclusion, like Will Gadd's  
Endless Ascent
, a 24 hour binge of continuous ice climbing. Or Eddie Izzard's  1000 mile run round the UK, televised as 'Marathon Man'. Or Bruce Jolliffe's West Coast Kayak Challenge.